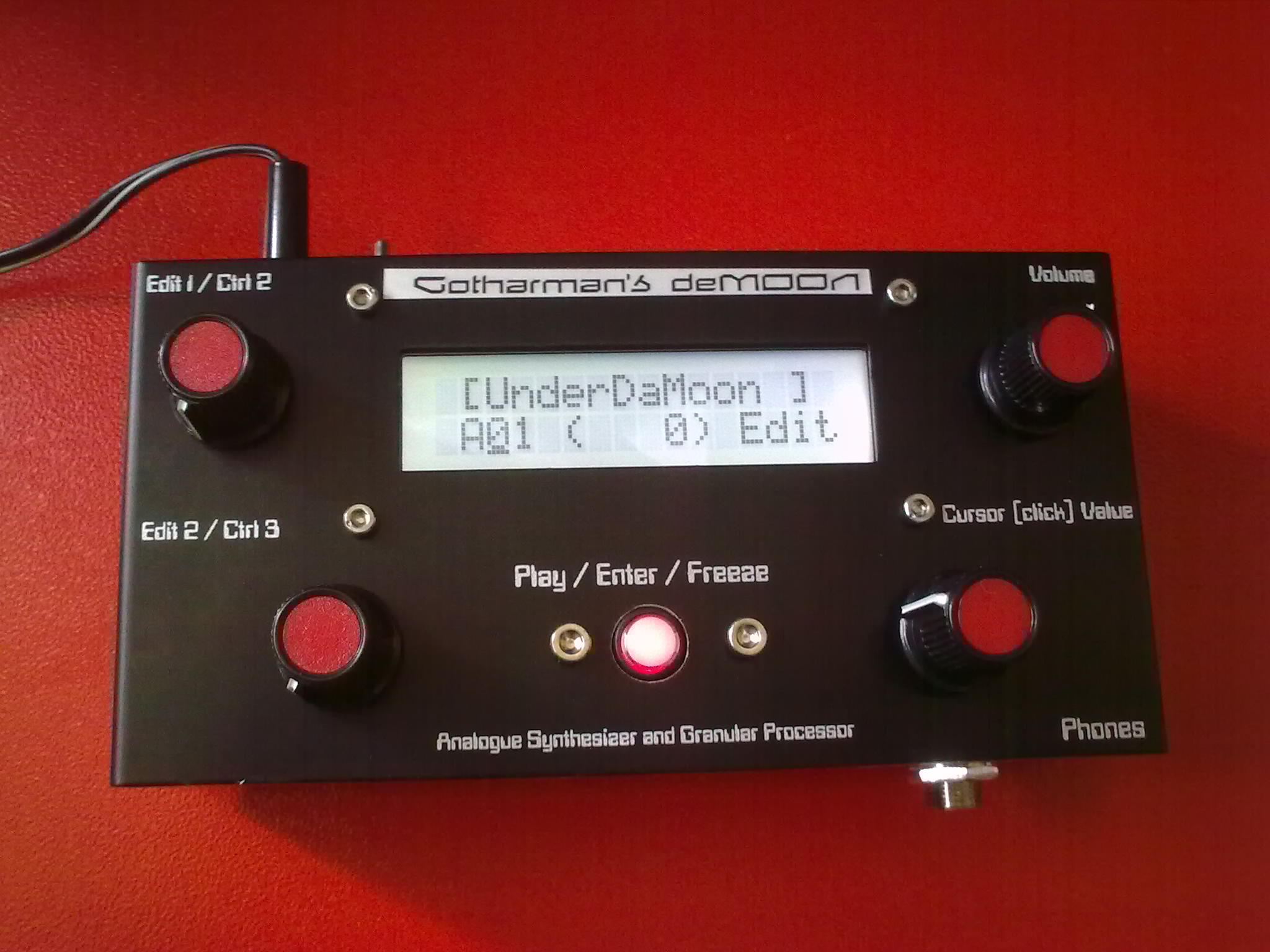 deMOON is no longer produced.
09.09.2010: Now Available: deMOON PC editor get it here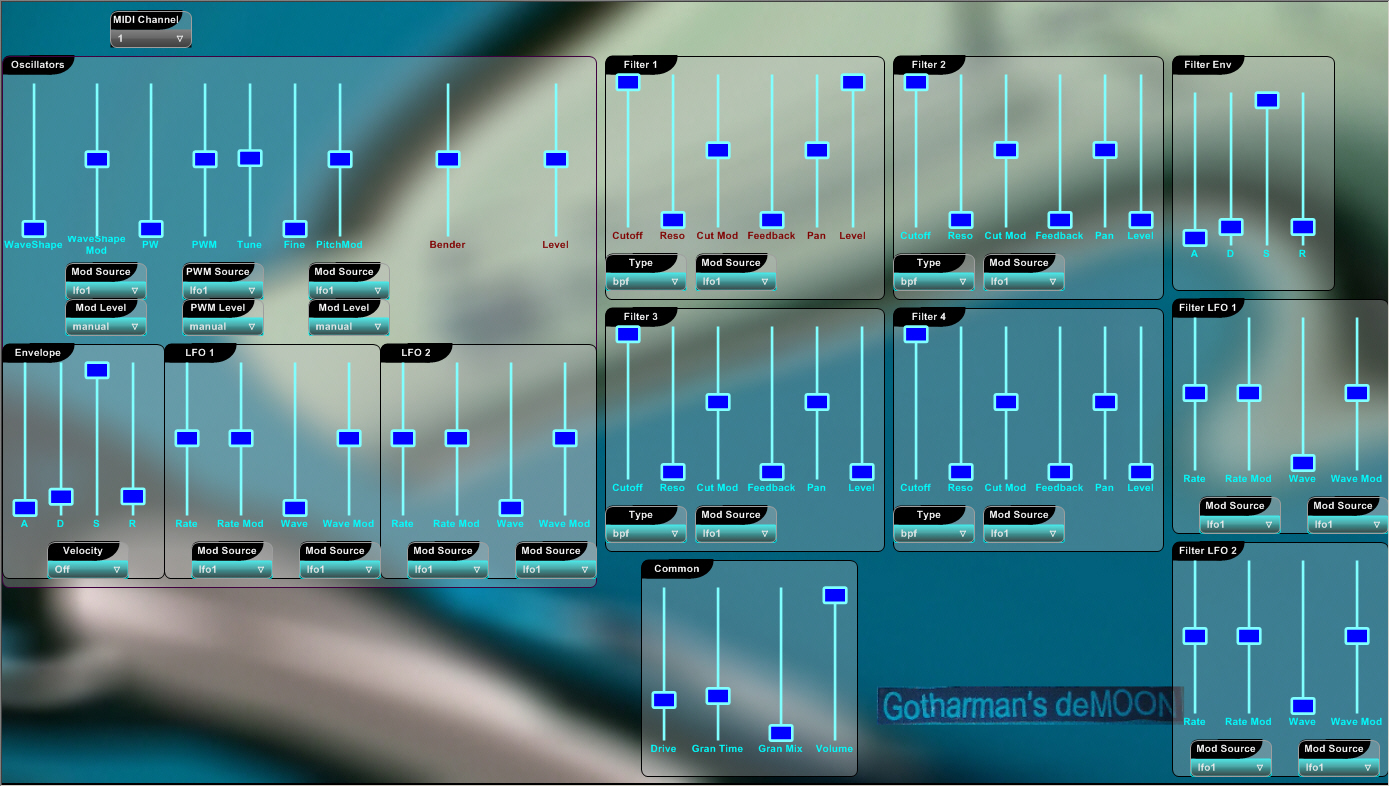 GotharMusic proudly presents deMOON 24bit. It now sounds better, has more possibilities, and are easier to operate.
-New 24 bit ultra low noise/hi gain output stage.
-2 new filtertypes - A sharp bandpass filter and an add filter.
-Envelope follower with "smooth" parameter added to the external audio input. It can control the audio output level and modulate all parameters in the filtersection.
-Envelope scaling improved - We listened to the critisism.
-Now deMOON writes parameter name and value in display, when it receives valid MIDI controllers - We listened to our customers.
-New soundbank - YES!!!!!!
MAIN FEATURES:
4-note polyphonic Oscillators with continuously variable waveforms, wave-shape modulation, fm and pwm which works on all waveforms.
4 high quality unique sounding analog-modelled bpf/lpf/hpf/bpf8/add filters.
Granulator effect.
5 distortion types.
4 LFO's with continuously variable waveforms, waveshape modulation and rate modulation.
2 envelopes.
Filter random generator.
Various control sources for every parameter.
Note randomizer.
32-step step sequencer which is MIDI-syncable, has one note track, one velocity track and one controller track, has realtime transpose, and a keyboard (arpeggiator) mode, in which, you can gate and transpose the sequence via a connected MIDI-keyboard.
Storage of 128 sounds and sequences in eeproms. No need to worry about changing back-up batteries.
Direct MIDI-control of most parameters. Writes parameter name and value in display.
Boxed small and compact – easily portable.
What user's says about deMOON:
Tim Hall, Australia:
So I've had my deMOON for a few months now and I fucking LOVE IT! There is no end to the gorgeous, nasty, sexy and strange noises that come out of this thing. It's a wild beast to rein in, but now that I've figured my way around it I'm getting lovely results! I love the way I can flip this thing from really clean, pure tones to a maniac of sound with just a few tweaks, it really gets people wild live when a solo or synth part starts off all nice and ends up all crazy deMOON! It's already on a few of my band's recordings and I'm sure it will be on everything we do now.
It has really changed my mind about synthesis too. For a long time I've had Rolands and Korgs filling in when I need a full pad, but I've found their sounds really cheesy. This made me hide in the world of my monophonic analogs (Mopho, Little Phatty) but now whenever I think I need some pad work I turn straight to the deMOON and love to bizarre edge it adds to everything. Also when people are checking out my rig after a live show or in the studio they always ignore all the usual Moog, DSI and other company gear and ask straight away what the little blue box is - it always blows their minds if I give a demonstration that not only is the little thing a synthesiser but its also the wildest sounding machine on there.
Jean-Yves, Belgium:
I take my time to check and play with the demoon,it's really an AWESOME MACHINE
I've tried with my guitar with the mini granular preset and it's works very well,I just need to add a boost/buffer to increase the volume,I really find awesome textures,it's sometimes sounds pretty close to my bit crusher but of course really more versatile,I will try to control the different settings with a midi foot controller with expression pedal.It's really a great job and i love this little box:-)
I don't think the random note preset works with the guitar signal.
deMOON templates for Novation SL series created by Jean Lemmer and Wellington Bear, Germany:
deMOON Novation SL template 1 (Click to download)
deMOON Novation SL template 2 (Click to download)
deMOON Novation SL template 3 (Click to download)
deMOON template for Behringer BCR2000
-deMOON user Meng Qi has created a template to control the deMOON, for Behringer BCR2000, and he is kind enough to share it with all of us. Download it and watch the video here: